Mexico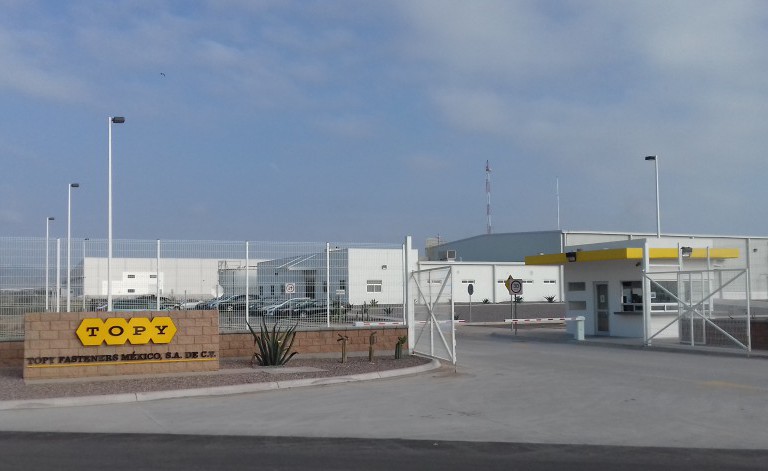 TOPY FASTENERS MEXICO, S.A. DE C.V.
Avenida Asia #603, Desarrollo Parque Industrial Logistik Ⅱ Villa de Reyes, C.P. 79526 San Luis Potosi., SLP. Mexico
[ view map]
Establishment

July, 2015
Capital

MXN 166.72 million
Sales

MXN 33,893 thousand (2017 fiscal year)
Employee

99 (December 2017)
TEL

444-478-1050
Features
Production and sales of industrial fasteners.
The product quality of Japan is localized in the Mexico and the product is able to be stably distributed at local prices.
Production Item
Spring steel fasteners, Snap rings, Thrust washers, Coned disc springs, Spring nuts, Hose clamps, Chimney nuts, other various leaf springs.
General pressed products.
Processing Technologies
Stamping technologies (200T,110T,45T,35T)
Secondary machining

Double Disc Grinding, Straightening and Assembly

Heat treatment

Austempering (AT) for thin leaf springs
Oil Quenching and Tempering (OQ)
Gas Soft Nitrocarburizing
Carbonizing
Stress Relief Annealing (SR)

Deburring

Conveyor Belt Deburring
Barrel machining

Surface treatment

Geomet
Plating(Zinc, Cupper, etc.)
Phosphate Coating Treatment
Black Oxide Finish (Fe3O4)
Inspection equipment
Various durometers
3D measurement equipment
Load inspection equipment
Image measuring equipment
Contracer
Roughness Tester
Profile Projector